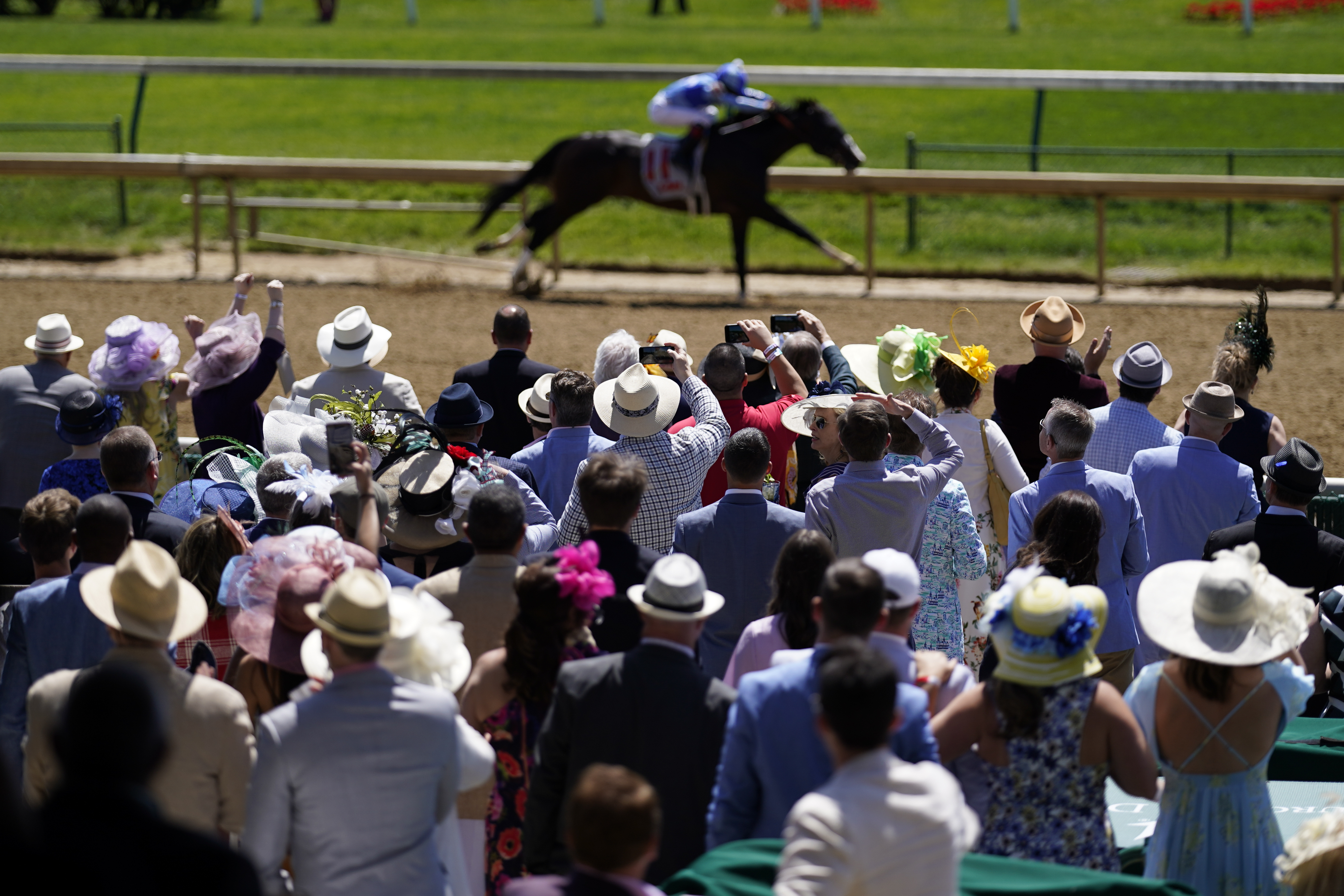 Churchill Downs in Louisville, Kentucky, is packed with guests in fancy outfits and oversized hats for the 2021 Kentucky Derby.
The iconic horse race — often called the most exciting two minutes in sports — returned to its usual first Saturday in May after the COVID-19 pandemic delayed last year's event to September and caused the race to run without fans.
Dr. Sarah Moyer with the Louisville Department of Health said they are taking proper precautions to ensure that people can safely enjoy this year's event, NBC News reports.
Starting No. 1 in the Kentucky Derby usually equates to not finishing No. 1.
The inside post is a dreaded starting position in the Run for the Roses. The horse can't veer much to its left at the start because there's a rail there. The horse can't veer much to its right either, because there's a wall of about 25,000 pounds worth of fellow hard-charging thoroughbreds there. Without a perfect break from the starting gate, the horse in the No. 1 post can see its Derby chances vanish in just a few seconds.
This is the predicament that Known Agenda will have to deal with on Saturday in the Kentucky Derby. The Florida Derby winner has one of the world's top trainers in Todd Pletcher, one of the world's top riders in Irad Ortiz Jr., and is going to be written off by many bettors simply because he's starting from a post where no Kentucky Derby starter has won in 35 years.
It's good news for all the other top contenders. The morning-line favorite, Essential Quality, is unbeaten in his five career starts and has won in a variety of ways. Rock Your World is going to break from the No. 15 post, one spot to the right of Essential Quality, and is coming off perhaps the best performance of any 3-year-old in the race by rolling to a win in the Santa Anita Derby.
Highly Motivated starts in the No. 17 post, Louisiana Derby winner Hot Rod Charlie in the No. 9, the Mike Smith-ridden Midnight Bourbon in the No. 10. All will have plenty of support at the betting windows, and they won't have any of the challenges that Known Agenda will face.
For the hunch bettors, there many "it's due to happen" prospects in this race.
Godolphin Stable, the three-time Eclipse Award-winning barn of Sheikh Mohammed bin Rashid Al Maktoum — who owns Essential Quality — isn't just 0 for 11 in past Derby chances, but none of those horses have placed higher than fourth. Gray or roan horses are 0 for their last 31 in the Derby; Essential Quality and Soup and Sandwich will aim to snap that drought. Javier Castellano will be aboard Highly Motivated; Castellano has yet to win a Derby in 14 previous attempts. Julien Leparoux will be aboard longshot Helium; Leparoux has never even hit the board in 12 previous Derby rides.